Design
How to Create a Site Plan
A scaled plan should detail all the existing conditions.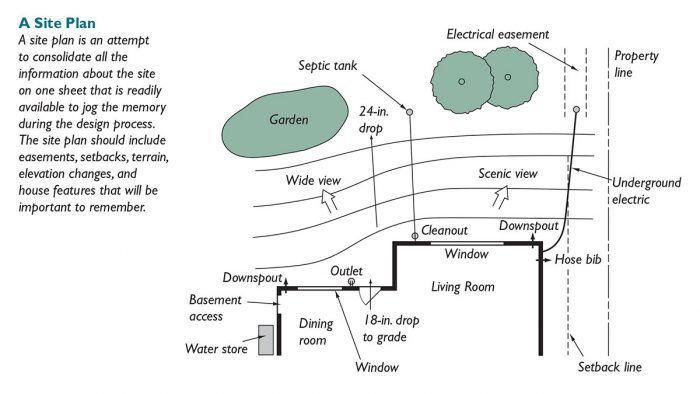 In order to build a deck that's well integrated with its surroundings, it's important to do a site evaluation. When I visit the site for a proposed deck, I gather information about topography and drainage, locate utilities, assess easements and covenant zoning restrictions, and then put it all down on one piece of paper. The product of the site evaluation should be a scaled plan detailing all the existing conditions. Having a comprehensive, readily available reference will save you from continually rechecking or even worse, forgetting these important details.
A site plan should show the outline of the house (including dimensions) in bold dark lines, along with the location of existing doors and relevant windows. I also like to note the use of rooms adjacent to the deck. It's a good idea to record the locations of hose bibs and exterior outlets (both of which are expensive to move) and to note all buried and overhead hazards such as utilities (electric, gas, phones, cable TV) and tanks (water, fuel, septic) and represent them with dashed lines. Don't forget to sketch in large natural objects, such as trees and gardens, as well as the locations of neighboring houses and easements. Downspouts that will need extensions to carry water away from new footing should also be located. In addition to these physical considerations, your site plan should include compass directions, prevailing wind conditions, and the location of the sun during the day, noting in particular any shadows cast by the house or nearby trees that will affect shading on the deck.
Topography plays a very important role in determining deck design. A site plan for a sloped site should note the natural elevation changes of the land around the site, drawn as contour lines. Drawing the contour lines absolutely correctly is not as critical as accurately determining the total drop in elevation over a certain horizontal distance. Steep slopes may allow for more level changes and will require more or longer stairs as well as taller support posts that will need closer structural analysis to determine their size and frequency.
Along with your wish list and site evaluation, photos taken of the site can be invaluable. Not only are they useful when you're sitting at your desk and need to check on exterior details, they can also help you see things in a refreshing way.
According to code
You may live in a neighborhood where there are covenants dictating your deck's architectural style, size, visibility, location, and materials. These covenants can be quite lengthy, and may require that your deck plans be reviewed by a neighborhood board. There may also be easements or other restrictions on the use of your property. Be sure that you know what these are before you begin your project.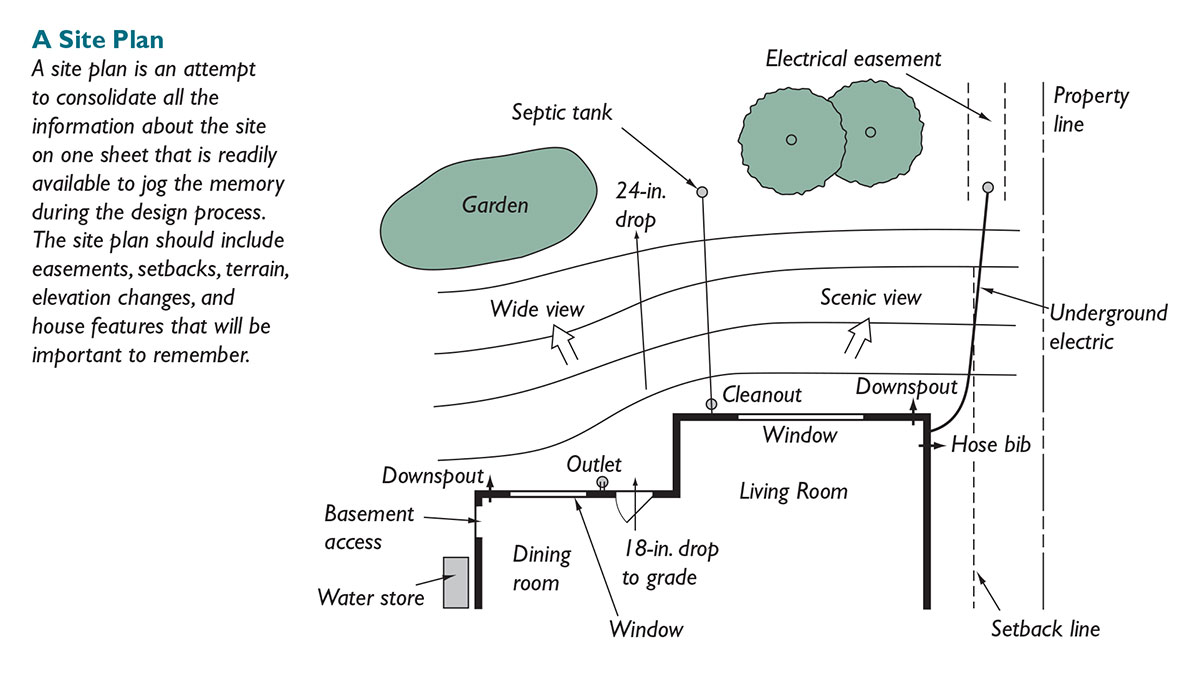 Previous:
How to Produce Deck Plans
Next:
Putting Deck Ideas Down on Paper