Design
Putting Deck Ideas Down on Paper
Sketch details to help you plan and problem-solve your deck plans before you build.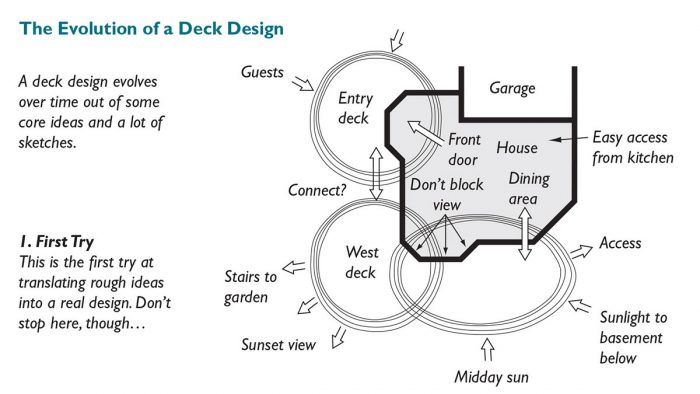 With my site plan and photographs in hand, I begin putting my ideas down on paper by establishing the areas will best meet the requirements of the wish list. Solutions to simple wants are usually obvious, but often a deck will be serving more than a single need. If I don't have a preconceived idea for the overall project, I like to first design a solution to each individual requirement on my list. After I've produced an array of small designs, I attempt to integrate them into a whole.
For example, I'll sketch an ideal eating area—which may include table, food prep counter, storage, and grill—then separately sketch a perfect hot tub deck with privacy screen, sitting bench, and changing booth. Next I might draw small sketches for a planter garden or a reading/meditation area. I then arrange all of these drawings in a logical pattern and tape them together, trying to problem-solve as I go along. For instance, the eating area might be best located near a door to the kitchen so that food doesn't have to be carried a long way. On the other hand, the hot tub would probably work best in a more obscure corner, especially if privacy is an issue. If you've sketched a play area for kids, you might want to situate it under a kitchen window from which a parent can keep a watchful eye on activities.
As your deck begins to take shape, you need to find a creative way of linking the separate areas together. Start thinking about level changes, broad stairways, connecting walkways. Give close scrutiny to size requirements. Benches, trellises, railings, and other features combine form and functionality, while specific finishing details—a classic or contemporary balustrade, for example—help ensure the deck's style matches your home.
At this stage of the process, I like to let my wish-list considerations take precedence over cost and structural details. I've yet to see a design that couldn't be built, but in the real world, cost is usually a consideration, so now's the time to go back and modify some great—if impractical—ideas to bring them in line with the budget. One problem most novices encounter is that the difficult-to-build design elements, such as curves, are not always readily apparent. If you're doing your own construction work, this can be a mixed blessing, for you may enthusiastically tackle something out of inexperience that a contractor would know will be difficult (and therefore costly) to build.
While compromises can be frustrating, it's important to bring into focus exactly what isn't working about a particular design. Sometimes this means setting the whole process aside for a while until clearer heads and calmer emotions can prevail. Often, it's just a single, knotty problem that makes the entire design seem faulty. If you can recognize this and focus on solving that one problem, it may clear up the misconception that the whole design is defective and help you see that your design is a good one. A good design usually seems obvious, while a bad design keeps nagging at you to fix it. This process should be fun, rather than tedious or stressful, so allow yourself plenty of time. I often spend weeks on a deck design as my clients assimilate the latest alteration and respond with new suggestions.
Previous:
How to Create a Site Plan
Next:
Drawing a Deck Plan View