How-To
Install Decking with Hidden Fasteners
See how to use a biscuit-style fastener to secure composite boards that have grooved edges designed for hidden fasteners.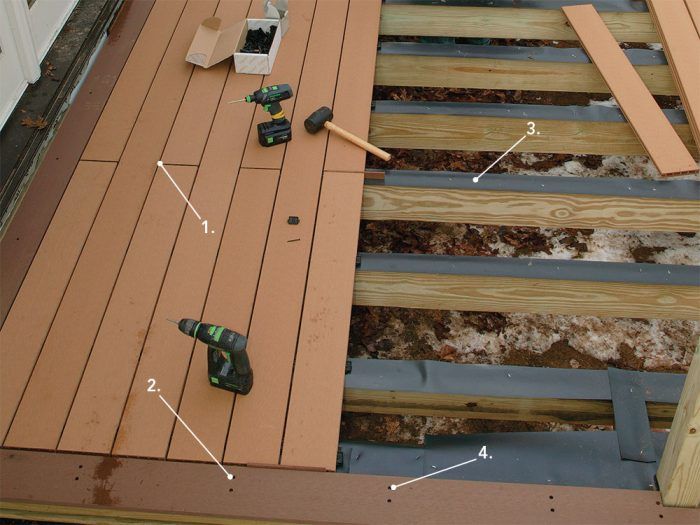 We used composite decking from GeoLam for the deck featured here. I generally order decking in lengths that minimize waste for a given deck size. Unfortunately, the deck width of 16 ft. was set before the decking was ordered, and it was only available in 12-ft. lengths. This left us two options: install full-length boards with a 4-ft. piece alternating left and right, or use two 8-ft. pieces cut from full length boards. To minimize waste, and for looks, we used the former option.
A single-board border encloses the field decking. We installed the border first, then filled in the center. We placed the first board 1/2 in. away from the house to allow water to drain.
The decking has grooved edges. To avoid showing a groove, we had to rip one edge of the darker boards used along the perimeter. We fastened the field boards with the manufacturer's biscuit-style hidden fastening system, and screwed and plugged the edge boards.
To keep the decking parallel, we measured the distance from the last board to the rim beam every few courses. It's also a good idea to eyeball the decking to keep it straight.
1. Decking anatomy
This biscuit-style fastener is screwed to the joist and engages the grooves of the adjacent boards. Leave the screws a little loose so that the leading edge of the fasteners easily engages the groove of the next deck board. After the following board is placed, the fastener screws can be tightened. Note the deck board's hollow structure, which adds strength without excess weight.
2. Slotted screw holes permit movement
Drill 1/8-in. pilot holes 16 in. apart along the border decking, then elongate the holes from the underside with a drywall spiral cutter. Cut the slots progressively longer (up to 1/4 in.) toward the ends of the boards. Do not slot the center hole on each board.
3. Cap the joists for longterm performance
To shed water, cap all single joists with 3-in. staple-on plastic tape (York Wrap), and the doubled rim beam with a 6-in. tape. This reduces the amount of water that can wick into splits in the wood where preservative may not have penetrated or be as fully concentrated.
4. The other hidden fastener
Unlike the field decking, the border can't be attached with hidden fasteners and must be face-screwed through pilot holes that are then plugged.
---
Gap the Decking in Cold Weather
Composite material expands and contracts along the length of the board with temperature changes. To accommodate this seasonal movement, install the decking with a 1/4-in. gap at each end when the weather is cold. In warm weather, install without gaps.
---
To see how we built this entire deck, read the article:
The Complete Guide to Building a Grade Level Deck
Plus, watch the video series: Build a Grade-Level Deck
Previous:
How to Install Hardwood Decking and Skirtboards
Next:
Build a Grade-Level Deck: Install Decking