Mounting Deck Ledgers to Engineered Floor Systems
Use the Prescriptive Residential Wood Deck Construction Guide table when fastening to engineered rim boards.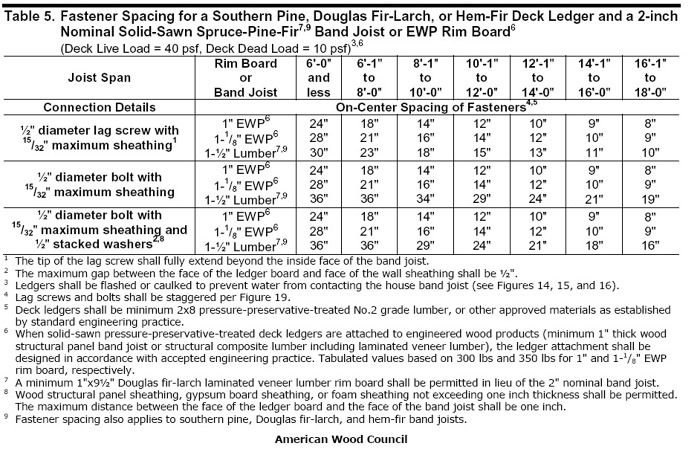 The 2012 IRC ledger attachment schedule only works on house rim joists made of solid-sawn lumber or Douglas fir laminated veneer lumber (LVL).  You can't follow it when mounting deck ledgers to rim joists made of engineered wood products (EWP) such as parallel strand lumber (PSL) laminated strand lumber (LSL) or LVL.  Instead we have to look to resources provided by fastener manufacturers, engineered wood manufacturers and industry associations to ensure these connections are made safely.
Engineered I-joist floor systems complicate deck ledger attachment because there is such a variety of rim materials out there on houses. The first of many challenges in mounting a ledger to an engineered floor system is determining what the rim board material is. Is it solid rim board or just an I-joist? If it's solid rim board, what is the material and how thick is it? Many of the I-joist systems in the 1980s and 1990s relied on ¾-in. plywood or OSB rips, none of which are solid enough to support a deck ledger. When I encounter these, I opt for a free-standing deck.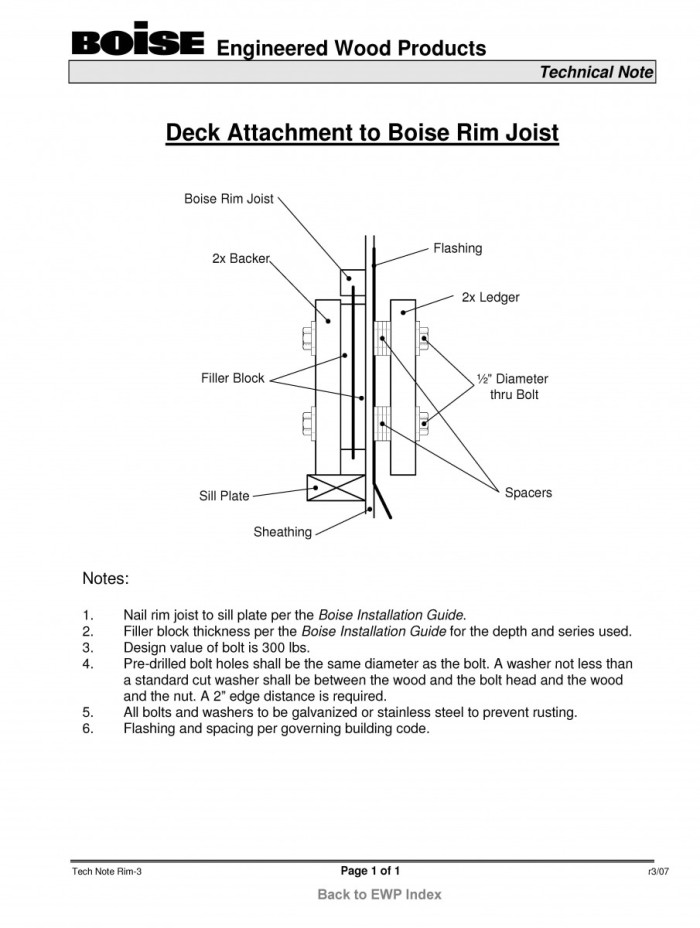 Engineered rim boards come in different thicknesses and densities, so they perform differently and you'll need to identify exactly what exists and then look for attachment solutions. My first step is to find a manufacturer mark on the rim joist material and then consult the manufacturer's installation guide.  Many now have prescriptive deck ledger installation details. But often those details only apply to newer engineered wood products and aren't applicable for out of production products.  In those cases, I contact the manufacturer directly for guidance.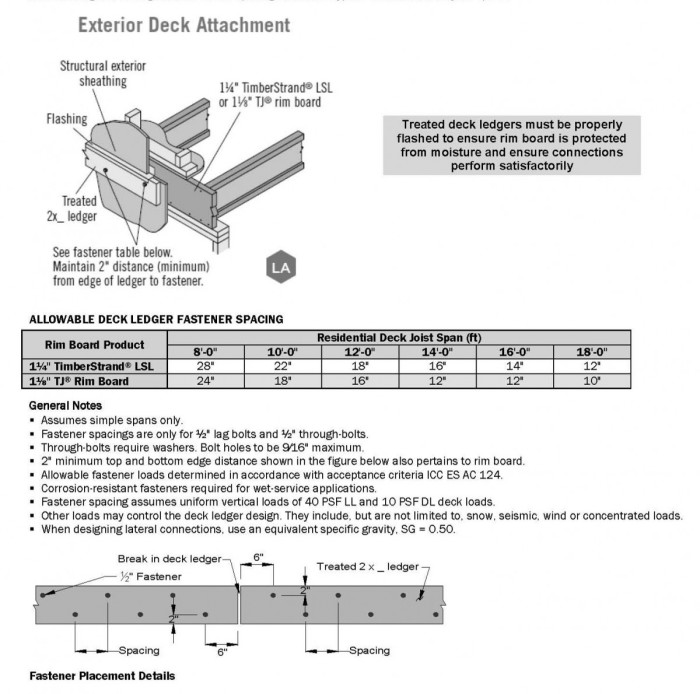 The American Wood Council's DCA6 "Prescriptive Residential Wood Deck Construction Guide" has a table similar to the IRC ledger fastener table and it includes lag screw and bolt schedules for common 1 in. and 1 1/8 in. EWP rim joist materials.  Many building officials will accept the AWC DCA6 details for deck construction.
Also, read the other articles in the difficult-deck-ledger series:
Freestanding Decks Solve Ledger Attachment Challenges
Previous:
Ultimate Deck Build: Fastening a Ledger to Concrete
Next:
Attach a Deck Ledger Over Brick, Foam, and Other Thick Claddings