Design
Second-Story Decks
Elevated decks help tame a sloped lot.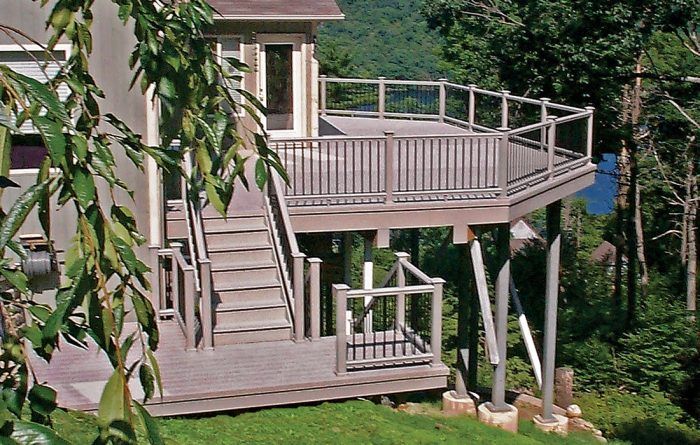 For a home with a sloped lot, a walkout basement, or distant views, a second-story deck is a real problem solver. Most importantly, it gives immediate access to the outdoors through the kitchen, great room, or dining area. At the same time, it can add dramatic architectural interest to the otherwise blank back of the house. As a bonus, gutter systems can be installed to create a dry area where patio space can be enjoyed during spring showers. The under-deck space can also be used as a shaded play area for kids.
This beauty and functionality does come at a price, however. Framing, footings, and fastening hardware have to cope with the exaggerated lateral forces placed on an elevated deck. And, because of the height involved, a second-story deck is more challenging to build. But as the examples on these pages demonstrate, the rewards in beauty and utility make the extra effort worthwhile.
---
When to Call an Engineer
While most basic decks aren't complicated, inexperienced deck designers can quickly find themselves in over their heads when conditions get tricky. You should seek an engineer's advice for any of the following problems:
Highly elevated decks
Special seismic requirements
Steep or unstable hillsides
Ground with poor bearing capacity
Large cantilevers
Roof decks
Foundations with concentrated loading (hot tubs)
(Scott Schuttner)
---
A) Who doesn't love trees? The problem is they can get in the way of a great view. Even if local covenants permit, it can be heartbreaking to take them down. As this deck demonstrates, getting above it all is a better solution.
B) Equipped with an under-deck gutter system, this deck shelters a patio accessed from the walkout basement. A landing a few steps up from the patio keeps the stairway from dominating the scene.
C) A wraparound deck combines the appeal of a deck with the traditional look of a balcony, but the biggest benefit is the easy access to plenty of outdoor living space.
D) Echoing the architectural features of a home is a great way to incorporate even an imposing deck like this one. The chopped corners of the house are a handy theme worth repeating. Substantial 8×8 posts help avoid the spindly look of some large decks.
E) A second-story deck can tame a highly sloped lot. This beauty positions an outdoor kitchen and a dining area right off of prime living areas. Railing capped with full-width deck planks is a handy place for drinks and plates—a good idea for any deck.
F) Served by a space-saving spiral staircase, this second-story deck puts outdoor living space on a new level. Arches and radius corners help soften the geometry of the house.
Rooftops: A special kind of upper-level deck
There are times when the area that would be perfect for a deck is already taken by another part of the house. If the view you want is best seen while standing on the addition you put in 5 years ago, then a rooftop deck is definitely an option worth exploring. This is essentially an elevated deck that borrows its support from another structure. A rooftop deck has the advantages of a better view and improved privacy without the disadvantage of having to build the involved framing needed for an elevated deck. That said, you still have to build it on a roof, which is not that easy and will require permits, an engineer's approval, and possibly a roofing contractor experienced in this type of project.
Other types of decks
First-Story Decks – These 13 welcoming decks are ideal for entertaining or relaxing.
Grade-Level Decks – Low-lying decks provide an easy transition from house to landscape.
Previous:
First-Story Decks
Next:
A Porch with a Rooftop Deck