What's the Difference: Deck Stain
Most stains are engineered to color and protect wood in a single coat and are available in oil-based, water-based, and water-based epoxy-fortified mixtures.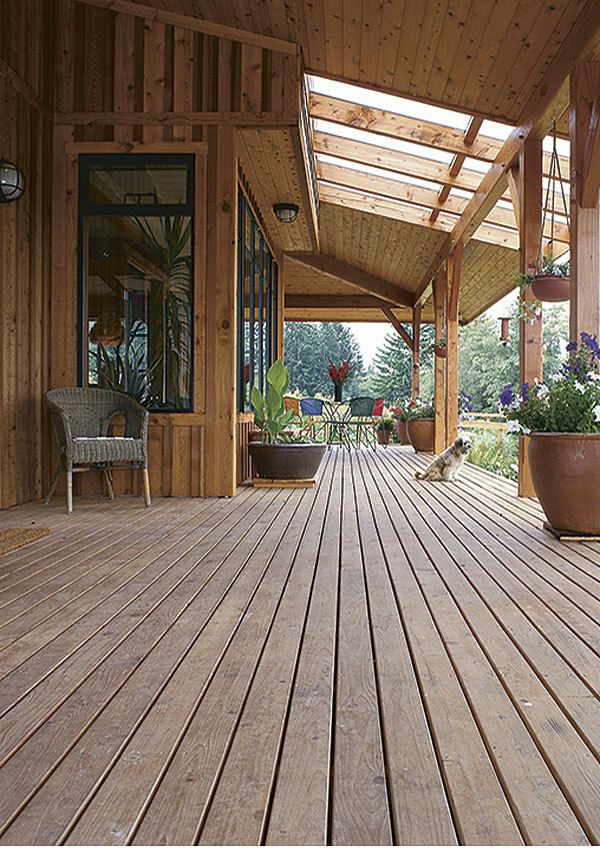 Deck stain keeps new wood looking good and helps to refurbish old, weathered boards. Stain shouldn't be confused with deck sealer, though. Terminology differs slightly among manufacturers, but sealers generally impart little or no color to wood. They simply seal it against air and moisture. Stains, which perform better than sealers, use pigments that add color to wood. Although the intended purpose of applying a deck stain may be only to return a deck to its natural tone, it's actually the pigment that helps to protect wood from weathering caused by exposure to UV-light from the sun.
Most stains are engineered to color and protect wood in a single coat and are available in oil-based, water-based, and water-based epoxy-fortified mixtures.
More pigment offers better protection
Although you might want your deck to have a clear finish—especially if you've spent top dollar for mahogany—a pigment-free finish is seldom a good choice because it offers little to no protection against UV-rays.
All three types of deck stain come in four versions: transparent, semitransparent, semisolid, and solid. Transparent stains appear clear to the eye, but they actually contain pigment. The best stains contain pigments called transoxides (look for them on the label) that provide UV-protection without adding color, much like a sunscreen.
Semitransparent stains add slightly more pigment but still allow some wood grain to show, while semisolid stains conceal much of the wood's natural character. With the highest percentage of pigment, solid stains offer the best protection but have an appearance just short of paint.
Water-based stains are more durable than you think
Most water-based stains don't penetrate wood well, but some manufacturers Penofin (www.penofin.com) and Benjamin Moore (www.benjaminmoore.com), are using additives to help their stains penetrate better, preventing the cracking and peeling common with older versions. Most water-based stains actually last longer than oil-based stains. While water-based stain can typically last two to three years and is more environmentally friendly (it's solvent-free), its refinishing process can be more work. Unlike oil-based stain, it's often necessary to remove the old water-based stain entirely before a fresh coat is applied, which usually requires a combination of sanding, stripping, and scraping.
Oil-based stains are easier to maintain
Manufacturers traditionally use linseed, tung, and soy oils in their oil-based finishes. This mixture allows the stain to penetrate deep into the wood, but not all oils perform the same. Critics say that linseed oil is a fantastic source of food for mold, so a mold-resistant chemical has to be added to stains containing linseed oil.
Applying an oil-based stain is much easier than a water-based product, but oil-based stains require more frequent maintenance. However, refinishing oil-based stain, which should take place every one to two years, is much less involved. The wood simply needs to be cleaned of dirt, grime, and mildew, then recoated. There's no need to recoat the entire deck if you don't have to; just touch up the areas that need it. Oil-based stain's major shortcoming is that it typically has a high VOC content and is more difficult to clean up.
Epoxy-fortified: The next generation of stain
Among the latest deck finishes to hit the market are water-based epoxy-fortified stains, such as the stain manufactured by Defy. A small amount of epoxy is combined in a synthetic resin to improve the stain's wear, durability, and color retention. Formulated to develop a deep sheen reminiscent of old-style oil-based finishes, these stains contain chemical additives to help break surface tension and allow the finish to penetrate the wood. Epoxy-fortified stain still forms a film finish, though, so the refinishing process is the same as with other water-based stains, which means a lot of scraping and sanding. The good news is that epoxy-fortified stain is supposed to create a much more durable deck, so you won't have to refinish it as often. Manufacturers of these stains say that their products last from three to five years before needing to be refinished.
Photo by: Roe A. Osborn
Previous:
Choosing the Right Deck Finish
Next:
How to Make a Deck Finish Last