Tools & Materials
Why Decks Fall Down
5 common reasons for deck failure and how to deal with them.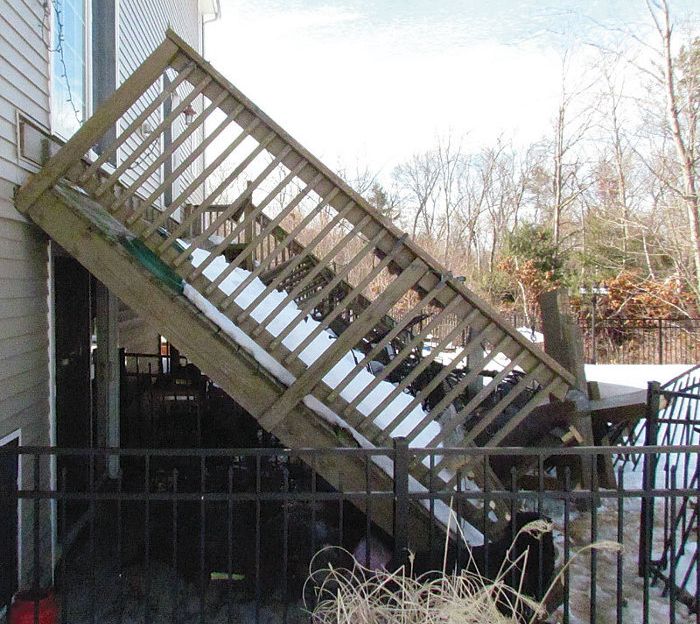 Synopsis: Professional engineer David Grandpré identifies five common reasons for deck failure and provides solutions based on the American Wood Council's alternative deck code, DCA 6-12.
---
If you follow the news, it may seem like there has been a rash of deck failures in the past few years. Typing "residential deck failures" into my search engine yields thousands of results. There are several reasons we might be seeing more deck failures than ever before. One is that decks have simply become more popular. Back in the 1960s and '70s, people built patios. The living space outside the home was on the ground. When treated lumber became readily available, patios in large part were replaced by raised wood decks, and more decks mean more opportunities for deck failures.
Another reason is related to the growth in size and complexity of residential decks over the years. It's common now to see heavy loads from hot tubs and large grills placed on decks, and many decks have multiple levels as well as angles and curves. Prescriptive codes and common references don't typically cover decks of such design. Instead, they provide guidelines for building decks that are basically rectangular in shape and that meet certain size requirements. The American Wood council's Prescriptive Residential Wood Deck Construction Guide (DCA 6-12), which many jurisdictions accept as an alternative to the IRC for deck construction, states, "The overall deck length shall be equal to or less than the overall deck width." Decks with concentrated loads or shapes that don't fit into the prescriptive guidelines may require an engineered design, and this engineering doesn't always happen.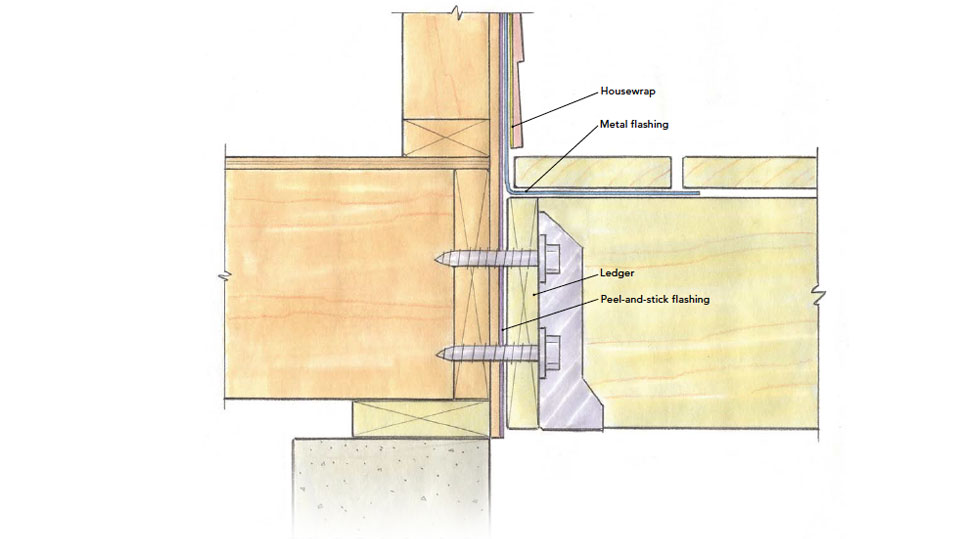 Still another reason for the preponderance of deck failures is time. Wood rots and steel rusts—even treated wood and galvanized steel. And many older decks were not built to the standards of today's code. Time is particularly unkind to structures built with substandard materials and poor methods. Contractors may say that modern code requirements are overkill, that the design loads building codes specify are extremes that rarely occur. It may be decades before circumstances prove those contractors wrong. With time comes not only deterioration but the increased likelihood that a deck will see a load that approaches or exceeds its maximum design load. It might be a big graduation party or the placement of a kiddie pool on the deck.
As a structural engineer, I've investigated a number of deck failures. I tend to see the same problems over and over. Usually the question I ask isn't "Why did it fall down?"; it's "Why didn't it fall down sooner?" Each component of a deck can be at risk if not properly designed and constructed. In my experience, most structural failures occur when more than one problem exists.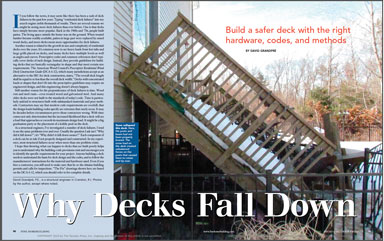 For more photos and details on why decks fail, click the View PDF button below. 
View PDF
Previous:
Designing Code-Compliant Decks
Next:
Top 10 Deck-Building Mistakes