Tools & Materials
Deck-Building Ladder Safety
Follow these 5 procedures to stay safe on any ladder.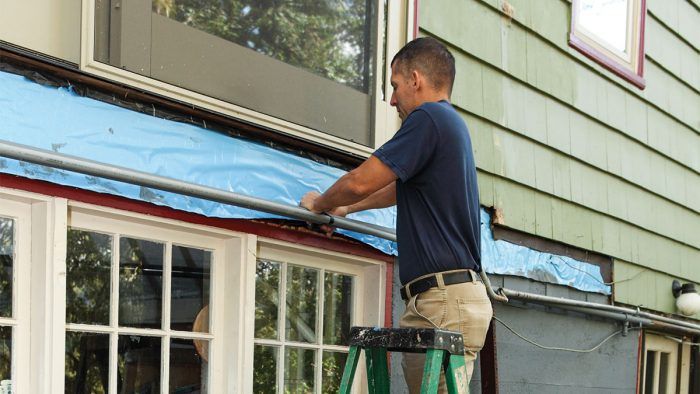 When using a ladder, it's important to make sure that it is set up solidly and securely so that when you reach out for something there is no chance that the ladder will give way. With extension ladders, it's a good idea to drive a 16d nail into the wood on either side of the ladder and then bend it over the ladder's flange, which keeps the top of the ladder from moving. Once up off the ground, build platforms to make it safe to move around. If there is an obvious hazard, which might be easy to forget, clearly mark it so that it is impossible to ignore. When climbing ladders with loads, keep the weight centered over your body and always have one hand on the ladder frame.
Clearly flag or mark any hazards to protect yourself and anyone else who may come onto the job site.
Five Ways to Be Safer on a Ladder
| | |
| --- | --- |
| 1. Stay centered. Placing the ladder close to the required cut allows you to avoid reaching out and becoming unbalanced. | 2. Stay two steps from the top. Although this rule is commonly broken, get a taller ladder instead of being tempted to teeter on the top of a stepladder. |
| | |
| --- | --- |
| 3. Extend a ladder 4 ft. above the surface you're climbing to. This way the ladder can provide support as you transition to the platform. | 4. Use bent nails to prevent the ladder from sliding to the side. Bend nails around the ladder rail on both sides. |
5. Think ahead. Every action has a reaction that could put you in harm's way. Here, the author made sure that the beam's offcut would not drop near the ladder base, which could cause him to fall.
More about ladders:
Pick Up Your Ladder at the Perfect Spot Every Time – If you got to carry a long extension ladder around, you could pick it up two or three times to find the balance point, but there's a better way.
Previous:
Deck-Building Safety Gear
Next:
Tools for Digging Deck Footings