Free-Standing Deck Footings
Small detached decks and other outdoor structures don't always need deep footings to be sturdy and code-compliant.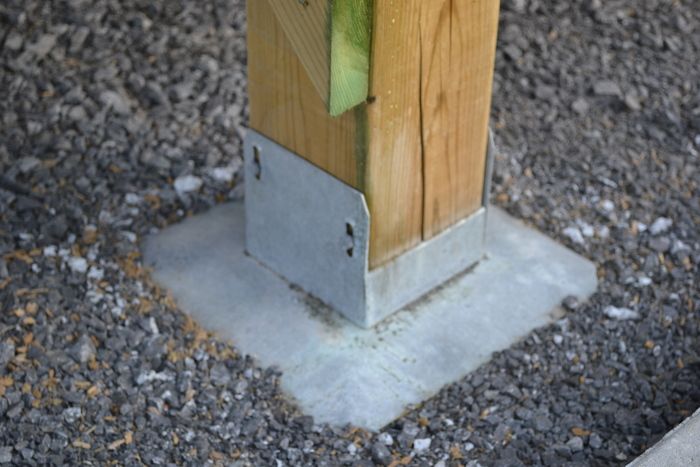 I'll bet you didn't know that the IRC doesn't always require deck or shed footings to be below frost depth. It does require this when a deck is attached to a house, but if you're building a shed or a freestanding deck, you don't need frost footings. You only have to dig down to the mineral soil below the topsoil. That opens up some time, money, and back-saving options.
One of those options appears to be the Titan Deck Foot Anchor, a galvanized steel footing that costs under $50. To use it, dig a 15-in. square hole to just below the topsoil layer. Tamp the bottom of the hole, fill it with crushed stone, and drive in the 24-in.-long anchoring auger with an impact wrench. Titan also sells 36-in.-long augers for sandy soil or for use on slopes. The top of the auger is threaded for a nut, which pulls a square, galvanized steel plate tight to the crushed stone. The included post base (offered for both 4x4s and 6x6s) then threads onto the auger. That's it.
The Deck Foot Anchor's auger provides some uplift resistance, which the inventor, Rich Bergman, says varies between 300 lb. and 2000 lb. depending on the soil type. Likewise, the load that each Deck Foot Anchor can support depends on the bearing capacity of the soil. Using the IRC's default soil-bearing capacity of 1500 lb. per sq. ft., each 1-ft.-sq. Deck Foot Anchor could support 1500 lb. At the code-minimum 50-lb. design load, that's 30 sq. ft. of deck or shed per footing.
The idea behind any shallow footing is that the structure can rise as the ground below it freezes and expands, and then it can settle back down as the ground thaws. One problem with that is that soil-expansion rates vary with the type of soil and how much water it holds. According to Bergman, the Deck Foot Anchor's base attaches to the post by means of a lag bolt inserted through a vertical slot. The slot allows for some differential movement should the soils expand at different rates.
One potential problem is that the Deck Foot Anchor has no engineering report, and it's up to the local building department to allow its use.
Previous:
Precast Footings: EZ-Tube
Next:
Working with Concrete