Tools & Materials
Working with Concrete
Whether it's delivered by truck or mixed by hand, you'll need a good supply of concrete for your deck footings.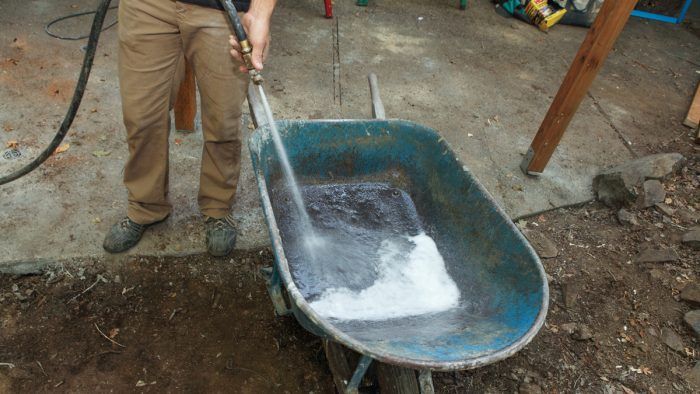 The biggest challenge when pouring concrete is the limited working time you have from when water is added to the mixture until when the concrete starts to harden, or cure. Another limitation of concrete is the working temperature. Unless carefully mixed with additives, concrete cannot be poured when the temperature is below freezing because it will not cure properly. Heat can have the opposite effect and cause the concrete to cure too quickly, which reduces the available working time. Humidity also affects working time, with dryer conditions speeding up the curing process. Fortunately, the most favorable conditions for working concrete are also the most favorable for your body to work in. If possible, pick a lightly cloudy day with a forecast of 60°F and no rain.
Concrete calculator
Estimating the amount of concrete you will need for the footings is a simple calculation of volume: length times width times height. For circular form tubes, use this formula: 3.14 (pi) times diameter times height. If math is not your strong point or your form is irregular in shape, look for an online calculator at the manufacturer's website, a home-store website, or via a general Internet search.
There are two primary methods of concrete delivery. One is to order ready-mix concrete delivered in a truck. This can be the more expensive option, but depending where you live, there may be suppliers who specialize in small batches. Sometimes they will cut you a deal if you are flexible about when the concrete can be delivered. Some trucks have a hose attachment that can pump the concrete around to the back of your house. If your deck project has a difficult access and you are not keen on going all-terrain with a wheelbarrow full of wet concrete, a pumper truck might be the -ticket. Expect to pay extra for the convenience.
The other delivery method is to buy bags of dry concrete and mix it with water on site in either a small stand mixer or by hand in a wheelbarrow. With good technique, mixing up a bag in a wheelbarrow is just as fast as using a mixer, and there's nothing to rent or set up (see, "Mixing Concrete by Hand"). Buying concrete in a bag is typically less expensive than getting ready mix delivered, and bags of dry mix are easier to move around the job site than is wet concrete.
If the concrete won't be delivered by a pumper truck, the easiest way to move it around the job is before it's mixed. This project involved a narrow, sloped access that would have been difficult to navigate with a wheelbarrow full of wet concrete. Moving the bags, however, was a piece of cake—and half the price of having the concrete pumped into place.
Trade secret
Wet concrete is surprisingly heavy and unstable in a wheelbarrow. Don't try to be more productive by mixing large batches. Even the act of mixing the concrete can topple an overloaded wheelbarrow. It takes the same time to mix two one-bag batches of concrete as it does to mix two bags in one batch, and mixing a single bag take less effort.
Mixing Concrete by Hand
Some people might assume that it's easy to mix concrete: Buy a bag of premix, dump it in a wheelbarrow with some water, and mix it up. Sounds simple, until you get a face full of concrete dust or spend 5 minutes mixing a bag when it should take only 2 minutes. Here's a method that makes light work of what can be a tedious task.
1. Fill the bottom of a standard wheelbarrow with about 1-1⁄2 in. of water.
| | |
| --- | --- |
| 2. Set the sack of concrete mix on end in the water. | 3. Open the bag by making a T-cut with a utility knife and laying back the flaps. |
| | |
| --- | --- |
| 4. Slowly empty the concrete into the water; avoid dumping the bag as this creates dust. | 5. The concrete should look like a small island with water all the way around it. |
| | |
| --- | --- |
| 6. Pull some concrete into the water with a stiff rake, then push it back to the island. Repeat, pulling in a little more each time. | 7. Mix the concrete until it's the consistency of stiff cottage cheese. |
8. Pour the concrete directly into the hole or shovel it into a form.
Working with concrete may be a messy job, and it pays to clean your tools after use. A quick rinse with water is usually all it takes. An adjustable-flow hose tip keeps you from having to run back to the house every time you want to turn the water on or off.
Rinse off your tools after use. An adjustable-flow hose tip (above) is a time-saver.
RELATED STORIES
Choosing the Right Concrete Mix
Previous:
Free-Standing Deck Footings
Next:
Choosing the Right Concrete Mix