Ultimate Deck Build 2015: Fastening a Ledger to Concrete
Learn how to attach the ledger to the house.
Fastening a Ledger to Concrete: The ledger is not only the structural connection between the deck and the house; it's also what establishes the overall height and levelness of the entire deck frame. On this project, the 2×10 joists of the main deck frame sit just about even with the top of the foundation, and a landing framed with 2x8s sits atop the main frame, serving as a transition point between the lowered deck and the patio door. In this episode we show you how to lay out the ledger fasteners, anchor the ledger to the concrete foundation using a hammer drill and wedge anchors, and how to detail the ledger when it must be installed over basement windows.
Read the related articles:
Frame a Grade-Level Deck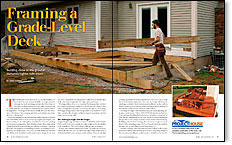 The Complete Guide to Building a Deck: Woodbury Conn., 2015